Get ready to soak up the sun and channel those summer vibes with some easy summer line drawing art lessons! What better way to capture the essence of the season than through beautiful line drawings that embody the warmth and joy of summer? Today, we'll be taking a deep dive into the world of line drawing and exploring how you can create stunning pieces that are perfect for the season
Whether you're an art teacher, experienced artist or just starting out, these easy summer line drawing art lessons are perfect for everyone. They're simple, fun, and a great way to get your creative juices flowing.
By following a few easy steps, you or your students will be able to create some beautiful line drawing pieces that capture the essence of summer. From beach scenes to sunsets to palm trees, there's no shortage of inspiration when it comes to summer-themed line drawings.
Not only are these art lessons a great way to express your creativity, but they're also a fun way to unwind and relax. So why not grab a pencil, some markers and a watercolor-prepper paper, and get started on your own summer line drawing masterpiece?
Step 1: Finding the perfect reference image!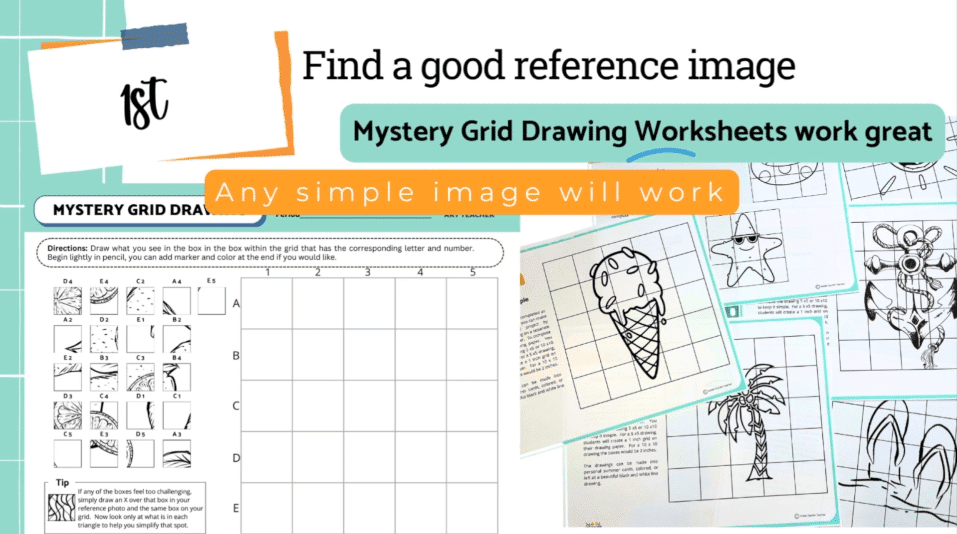 First things first – finding the perfect reference image! You might be thinking, "That's easy, I can do that in my sleep!" But don't underestimate the importance of choosing the right image. I've got you covered with some awesome mystery grid drawing worksheets (or you can choose your own image). Just make sure it screams summer vibes!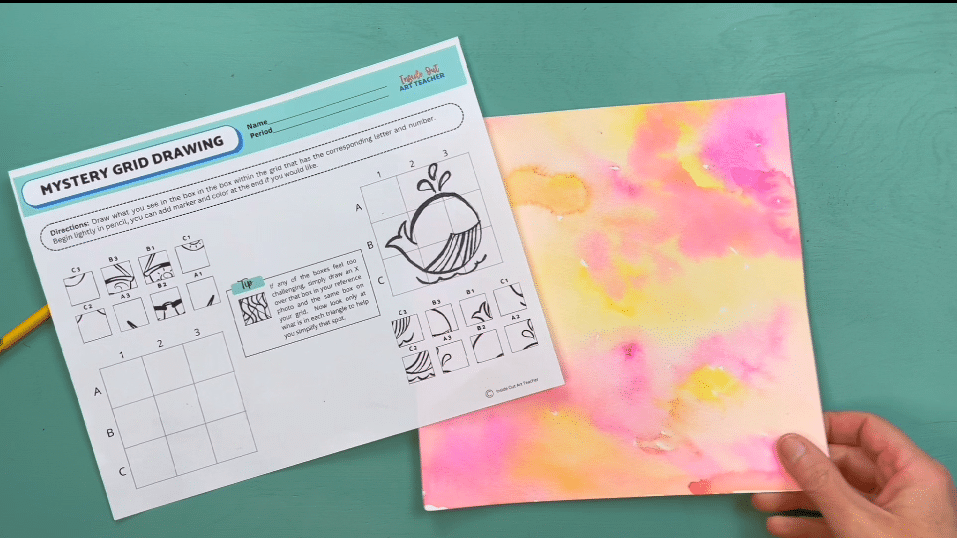 Now, let's talk about prepping your paper. You'll need a watercolor background paper to really capture that summertime feel. But be careful not to go too dark on the watercolor or you might have trouble seeing your drawing. We want this to be as easy and breezy as a summer day at the beach! So, take your time and make sure everything is just right. With these tips in mind, you'll be ready to move on to the next step in no time!
Step 2: Outlining your Summer Scene
Step 2 is all about getting the foundation of your drawing down on paper. To start, you'll want to label your boxes and use the cover page as a guide for your outline. This will help you keep everything organized and on track.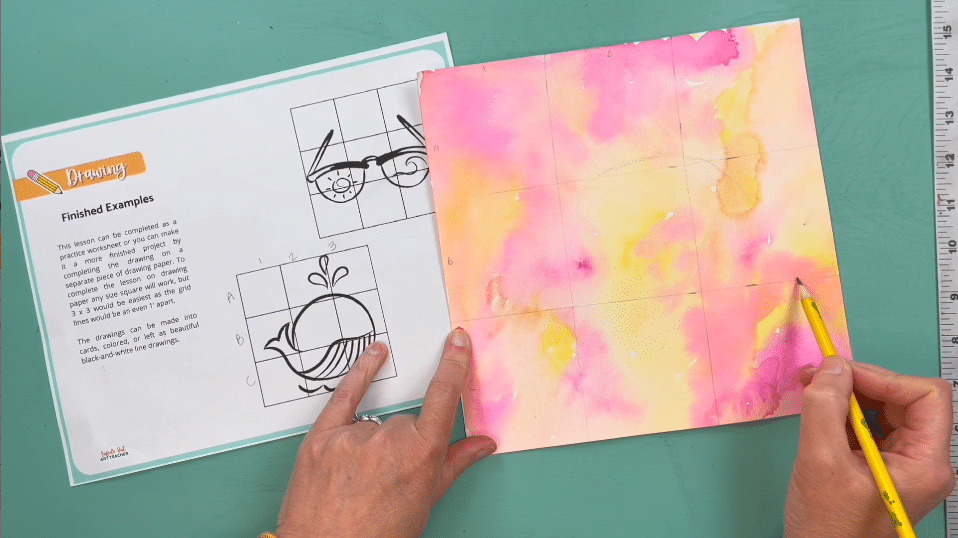 Now, don't be afraid to take it slow and steady. We're in no rush here! Start by sketching your outlines lightly with a pencil. Take your time to get it just right. Once you're happy with your pencil lines, it's time to bust out your trusty Sharpie marker. Use the thicker end of your marker to go over the lines where they need to be bolder.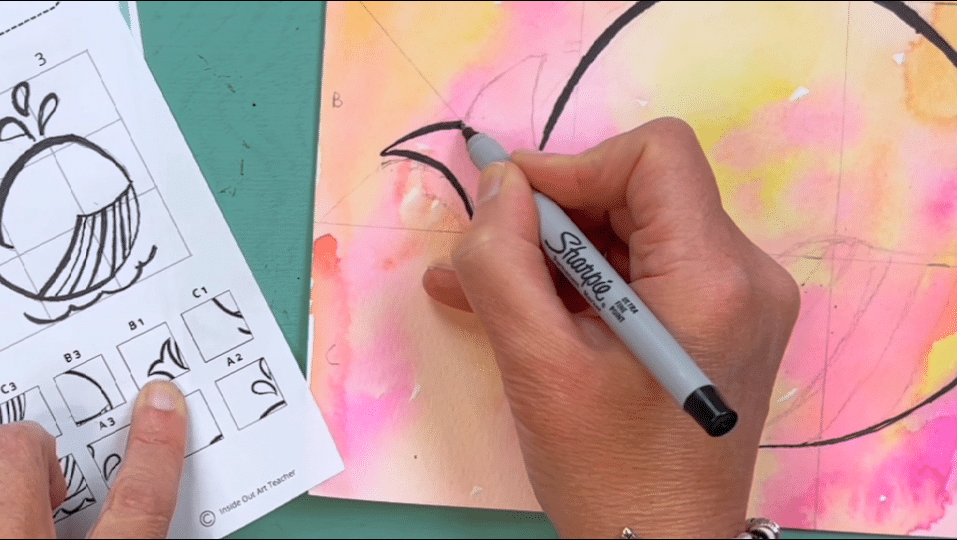 Next, grab a thinner marker and use it to smooth out those lines. This will help your drawing look more polished and professional. Remember, we want those lines to flow from thick to thin, just like the summer breeze! Keep following your reference image and you'll be ready to add some color to your creation in no time.
Step 3: Add Some Pop of Color!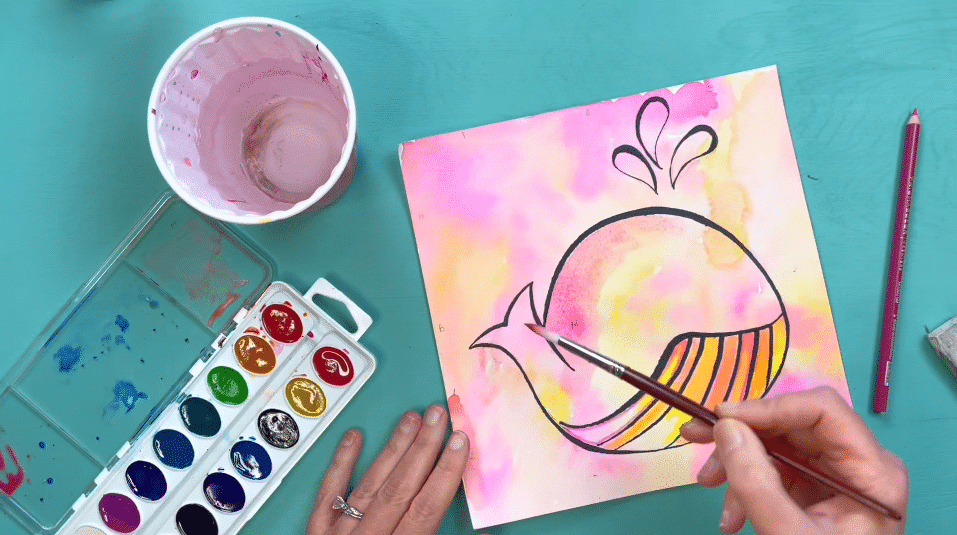 Now that you have your outlines in place, it's time to add some color to your summer line drawing. This step is all about adding details to your drawing to bring it to life.
You can use lighter-colored markers, colored pencils, or even watercolors to add some color to your drawing. If you're using watercolors, it's important to keep the paint really watery and use light colors that match the background. If you use opposite colors, the colors might blend and turn brown, which could ruin the overall look of your drawing.
One way to add color is to look at your reference image and pick out some of the main colors that you see in the image. Try to use those colors in your drawing to create a cohesive look. You can add color to different parts of your drawing, such as the leaves on a palm tree or the stripes on a beach umbrella.
Remember, you don't have to add too much detail if you don't want to. Sometimes simple is best, especially for a summer-inspired line drawing. You can stop here and still have a beautiful piece of art, or you can move on to the next step for some additional flair.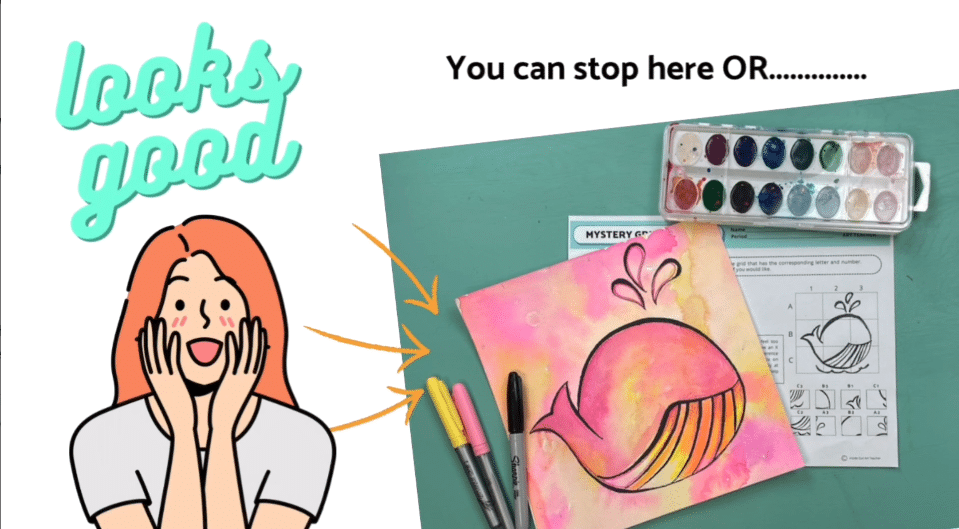 Step 4: Add Some Pizzazz to Your Drawing with Text!
Congratulations, your drawing is already looking amazing! But if you want to take it up a notch, you can add some text and expressive fonts to your masterpiece. Let's get started!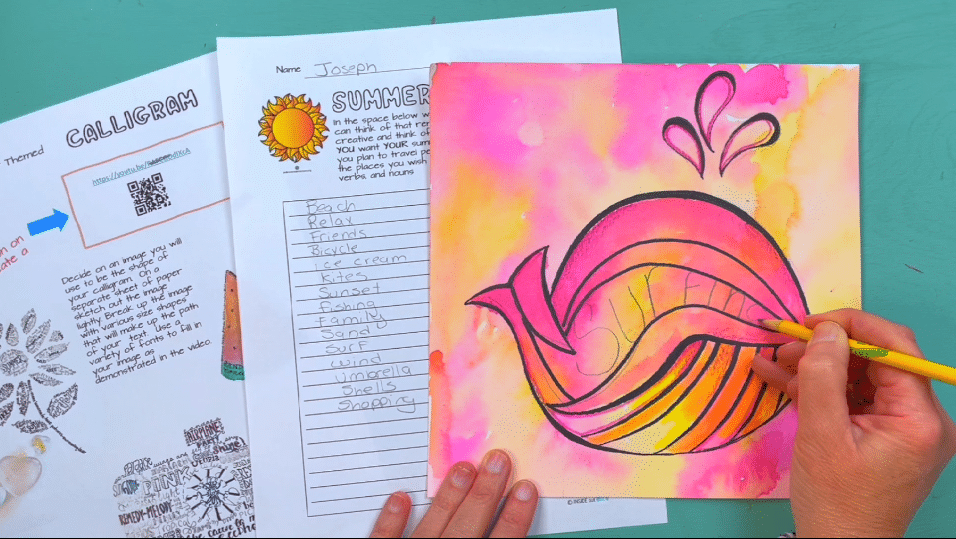 First, grab a pencil and determine the path of your line. For example, if you're drawing a whale, follow the form of the whale's body. Now it's time to brainstorm some summer-themed words to use as your text. Think of words like "beach", "sunshine", "ice cream", and "flip flops". Get creative!
Once you have your guide marks and list of words, grab your thick and thin Sharpie markers and start going over your text. You can even use a font reference sheet for inspiration on different types of fonts to use.
Smooth out your lines until you're happy with your design. And voila! You've just added a fun and personalized touch to your summer line drawing. It's like adding a cherry on top of an already sweet treat!
Step 5: Have Fun
The possibilities are endless when it comes to creating these easy summer line drawing art lessons. You can pick an image that's more intricate and detailed, or you could pick something super simple like a little whale. But it is the detail and the creativity that you put into them that make these really look amazing.
So have fun and enjoy the process! Summer is a time for creativity and relaxation, and these easy line drawing art lessons are the perfect way to get started. Don't forget to share your creations with me (tag me in my socials) and happy drawing!
Want to Save Time or Need Ready-to-Go Reference Images and Practice Drawing Worksheets?
Looking for engaging summer-themed art projects for summer camp or any middle school art class? Look no further! This super fun summer-themed art lesson bundle is so versatile.
It contains 7 super fun art projects and 28 Mystery Grid Drawing Worksheets. Students love trying to solve the puzzle and guess what the different images are. The drawings can be finished with a marker or pencil. They can also be repurposed and used as reference images for the Summer Art Project Lesson included.
The projects use a variety of different mediums such as fine line markers, watercolor, pen and ink, acrylic paint, collage, and colored pencil. They are great for beginners with no drawing experience or more advanced artists.
Want more themed reference images and worksheets that speak to your student's interests?
Looking for a high school end-of-the-year art project or middle school art lesson that will engage your students and save you time? Look no further! This super fun summer-themed art lesson bundle is so versatile.
The Mystery Grid Drawing Worksheets are great for sub plans, early finishers, or simple drawing exercises. The package contains 28 summer beach-themed mystery scramble grid drawing art worksheets. These make great reference images for the Summer Art Project that is also included.
Be the first to know about discounts, freebies, and new resources!
Find me on my blog – Inside Out Art Teacher, YouTube, or Instagram.